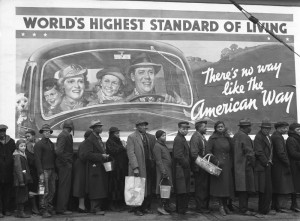 I watched a gut-wrenching documentary on HBO the other night called Hard Times: Lost on Long Island, that takes an unflinching look at the human cost of this Great Recession. Afterwards, I couldn't stop thinking and worrying about the fate of the individuals (and their families) I'd met, whose lives have been devastatingly upended by their inability to find work after being laid off.
If Levittown circa 1950 was the poster town of the suburban American dream, today it more closely resembles a nightmare: the local sheriff and his team, who are responsible for carrying out home evictions, have never been busier; a former solidly middle-class homemaker pawns her jewelry for cash and regularly picks up canned goods at the church food pantry; a white-collar professional who survived both World Trade Center attacks contemplates suicide so his family can live off of his insurance policy payout; a 65 year-old cancer survivor moves in with his daughter in Albany to take a commission-only job while his wife remains behind, looking unsuccessfully for PR work.
Couples with young children who might otherwise be consumed with prosaic anxieties about elementary school choices instead become experts in managing the nuances of the foreclosure process. In a particularly tragic twist of fate, a young father cleaning out the basement of his home before his family is forced to move out contracts a freak virus spread by mice and dies.
This film should be required viewing for anyone in Washington, DC with a "blame the victim" mentality about the current unemployment crisis. And while I'm not trying to wrest the spotlight away from Sheryl Sandberg's "lean in" revolution, I am frankly much more concerned about the societal impact of so much wasted potential among the tens of millions of individuals (men and women) in the ranks of the long-term under- and unemployed, not to mention the new generation of recent college graduates who can't get a decent foothold in the work world and the young adults without college degrees who are at an even greater disadvantage.
I'm also worried about the steady erosion in educational advancement and earnings status of men relative to women in this country. It's a well-documented and disturbing trend that's not good for anyone. The latest research suggests that boys raised in single-parent homes (a phenomenon often related to or caused by financial insecurity) in particular run the highest risk of poor outcomes on both of those fronts.  For a country with such a flimsy social safety net, we can't afford to ignore the many costs – financial, psychological, medical, public safety – that the shortage of relatively stable jobs paying a living wage is creating. Not to mention the deep emotional scars that joblessness inflicts on successive generations of each family ecosystem it touches.
Meanwhile, at the other end of spectrum, the most desirable companies to work for, like Google, are competing for the same small cadre of highly educated global knowledge workers by offering an extraordinarily enlightened approach to human resources management that keeps their employees happy, engaged and industrious. It really does seem that when it comes to opportunities to do meaningful work and be well-compensated for it, the gulf between the "haves" and the "have-nots" is alarmingly wide, and growing.
More needs to be done to help those with less develop the skills and tools they need to successfully enter and / or re-enter the workforce. Year Up is a great organization doing just that, and I'm also a big fan of The Doe Fund. I've been on hiatus since I termed off of my last nonprofit board a couple of years ago (the wonderful Hetrick-Martin Institute), but I've been feeling like it's time for me to step up and commit to a new cause – and I think I just found it.