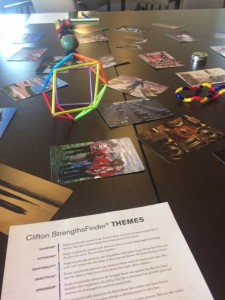 Earlier this spring, Eden co-facilitated a team-building workshop for a group of leaders at Columbia University with Jennifer Bezoza of Leading for Good. The goal was to help a group of 25 leadership committee members develop greater self-awareness about their own unique talents and those of their colleagues, and gain practical insights on how to work together more collaboratively to lead their departments through an ambitious strategic change initiative.
Using the StrengthsFinder 2.0 assessment as a framework, workshop attendees participated in a variety of activities designed to learn about one another's core strengths and how they fit into the four dimensions of the StrengthsFinder leadership schema: executing, 
influencing, relationship building and strategic thinking. The crowd favorite was a Shark Tank-style exercise that involved small groups of participants coming up with an entrepreneurial product or service in a limited amount of time, and then determining the role each individual would play in the enterprise based on their strengths profile.
Participants left the workshop armed with a shared understanding of the team's priorities moving forward, as well as actionable strategies to take back to their groups and incorporate into their day-to-day management activities.