On a recent road trip to Stowe, VT, my daughter and I unexpectedly drove past Ben & Jerry's flagship factory, which happens to be located in the town next door. When we saw the sign announcing daily tours and tastes, we couldn't believe our luck. Ben & Jerry's is my favorite ice cream (Chocolate Therapy, anyone?), and it's also a company I've long admired for its "do well by doing good" ethos.
I learned a lot on the tour about Ben & Jerry's history and culture – which not only contribute mightily to the company's brand equity, but also create a work environment that's designed to be fun, rewarding and purpose-driven. Our young, enthusiastic and remarkably thin guide told us that every employee gets an ice cream allowance of three pints per day, which can't hurt morale, either.
Free pints aside, here are four important things that Ben & Jerry's has nailed:
They have a clear, three-part mission that underpins everything they do – To make fantastic ice cream with the highest-quality ingredients; to pursue sustainable financial growth that benefits all of the company's stakeholders, including its employees; and to change society for thebetter through the policies the company employs, advocates for and demands from its business partners. Every year, 7.5% of the company's pre-tax profits are allocated to fund community-oriented projects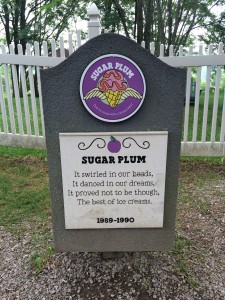 2. They celebrate their failures, cleverly, and then keep on innovating – Just a short walk from the factory is the Flavor Graveyard, where discontinued ice cream flavors are memorialized with headstones and poetic epitaphs. There are currently 31, ranging from the ill-fated Peanuts! Popcorn! and Miz Jelena's Sweet Potato Pie to Wild Maine Blueberry and the (per our guide) hate-mail generating Sugar Plum: "It swirled in our heads, it danced in our dreams, it proved not to be though, the best of ice creams."
3. They've grown wisely (did you even remember that they were acquired by Unilever in 2000?) – In 1978, Ben and Jerry invested $5 in a correspondence course in ice cream-making from Penn State and then opened their first scoop shop with a $12,000 investment ($4,000 of it borrowed), in a renovated gas station in Burlington. In 1984, they raised money to build a full-fledged manufacturing plant through an innovative Vermont-only public stock offering. And when the company became a wholly-owned subsidiary of Unilever – significantly expanding its global reach – it negotiated terms that included an agreement to not reduce jobs or alter the way the ice cream is made. An  independent board of directors was also established to ensure that Ben & Jerry's doesn't stray from its founding mission.
4. They are laser-focused on producing a really, really good product – I don't think I've ever met anyone who doesn't like Ben & Jerry's ice cream. It was voted, in my (admittedly not scientific) family member poll, as the best product in its class. Enough said. If it were up to me, though, I'd dispatch the crazy-sweet sample we got after our tour – Cotton Candy with Sprinkles – to the Flavor Graveyard post haste!
Ben & Jerry's is a great example to me, as a business owner, of what can be achieved when you do something you're passionate about, keep experimenting with new ways to get better and stand for something bigger than your bottom line. It's also a good reminder for me, as a coach, that while certain leadership fads may come and go, if you don't get the base right, even the fanciest mix-ins won't save you from the Graveyard.