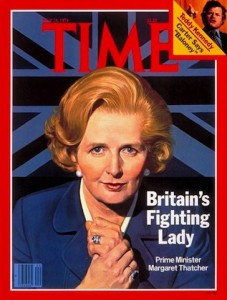 I rarely make an effort to see movies on the big screen anymore, but when my friend Stephanie Silverman invited me to attend a Screen Actors Guild preview of The Iron Lady followed by a Q&A with Meryl Streep (who plays Margaret Thatcher) and director Phyllida Lloyd, I couldn't say yes fast enough. Meryl Streep is one of my favorite actors. I respect her as much for her acting chops as I do for her intelligence, integrity and non-diva vibe.
Set in the present, the movie is structured as a love story of sorts between Thatcher and her late husband (who appears very much alive to her as a result of her dementia) that toggles back and forth between formative events in her earlier life and career as Prime Minister and her current twilight state. I predict Oscar nominations for Best Actress and Make-up, at a minimum.
As it happens, right before I left for the movie I had a conversation with a client about a phenomenon I'll call "Success 1.0," for lack of a better term. It's the common tendency successful people have to continue relying on the same behaviors and skills that fueled their ascent, only to find that the brass ring at the top remains elusive because those attributes are insufficient, and sometimes even counter-productive, to reach it.
Or, maybe they do manage to grasp the ring but then fail, sometimes spectacularly, because they don't adopt the right mindset and habits to succeed in that new leadership role. Cautionary tales in the latter category abound: recently ousted Pfizer CEO Jeff Kindler (never stopped behaving like the trial lawyer he once was); former Hewlett Packard CEO Carly Fiorina (ever the marketer, she pursued a disastrous and toxic high-profile merger with Compaq at the expense of sound strategy and innovation); Robert Nardelli, who greatly enriched himself after alienating employees and customers at Home Depot with his old-school arrogance and then went on to preside over Chrysler's bankruptcy . . . the list goes on.
So this was on my mind, and then I saw The Iron Lady and learned that Thatcher, too, was undone by personal qualities that had at one time served her exceedingly well. The same perfectionist tendencies, rigid convictions and combativeness that enabled the daughter of a grocer to rise through the ranks of a less-than-welcoming Tory party – where apparently her class was considered even more of a drawback than her gender – to become the Western hemisphere's first female 20th century head of state ultimately became weapons that she wielded against her cabinet and advisors. (And her daughter, too, if the movie is accurate in that regard.)
Thatcher, it seems, was a bully – at least in the final days of her tenure. That is made clear in a scene towards the end of the movie where she painfully and publicly humiliates one of her ministers in a meeting, taking him to task like a schoolmarm for, among other faults, a misspelled word in a document draft. According to the director, this is a faithful depiction of a real event. That minister's subsequent resignation ultimately set in motion the chain of events that led the Conservative party to back John Major's bid to supplant Thatcher as Prime Minister in 1990.
How to avoid a similar fate? Upgrading your value proposition to the "Success 2.0" version is challenging, because changing long-standing behaviors is hard, but by no means impossible. Especially when there's a compelling incentive to do so. Marshall Goldsmith, one of the best known and most influential executive coaches in the U.S., wrote a terrific book about this called What Got You Here Won't Get You There. In it, he offers actionable strategies for high-performing individuals and teams to take their game to the next level. It's a great read.
In my next post, I'll share some of my own thoughts about the best ways to do this, including how to conduct a meaningful 360-feedback survey on yourself and how to enlist work colleagues to help you make important changes and avoid backsliding. In the meantime, if you have any thoughts on the topic, please send them my way!